On Sunday 17 September the building was opened to the public, for our second participation in the Open House scheme (the first was in 2002). We had about 170 visitors, of all kinds – the architecturally committed, some people specifically interested in shared workplaces, curious neighbours, a few downright oddballs. We have heard stories of hundreds flooding through the most fashionable buildings on Open House weekends, so this was pleasantly calm by comparison. The people who came seemed to be genuinely interested and happy to talk. Some nice comments were left in the visitor's book.
We marked the day with an exhibition of 'Working Documents' in which people in the building displayed typical drawings, drafts, notes, or other bits and pieces, to show the processes of their work. The 'documents' were fastened with dressmaker's pins onto a set of three large sheets of industrial felt that were bought for the purpose. It took a fair bit of time and ingenuity to install the felt sheets; but, once in place, they provided a sympathetic and very workable substrate for the exhibition. The show ran for a few weeks and provided a good conspectus of the range of work done here, and of the various methods and approaches employed.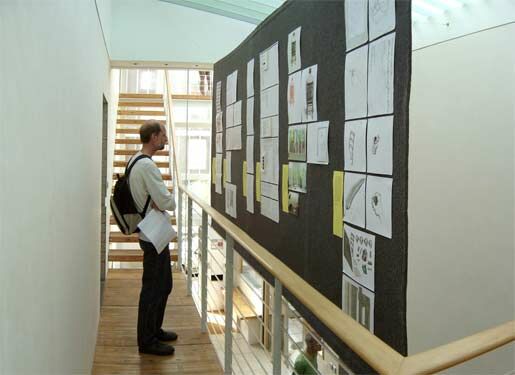 After the visitors had gone, we held a reception and an informal concert in the back courtyard. Members of the Bach Players played through a programme of Mozart pieces (a string quartet, some fugues, and the horn quintet) which they were due to perform in concert later in the month. Some of us listened in traditional silence, others chatted and drank almost out of earshot (as in a jazz club), some young children were clearly fascinated and danced around the players. The performers said they were happy with the response, glad of the chance to run through some quite difficult music in 'live' conditions, and to bring music out of the concert hall. For all of us, the building came alive.