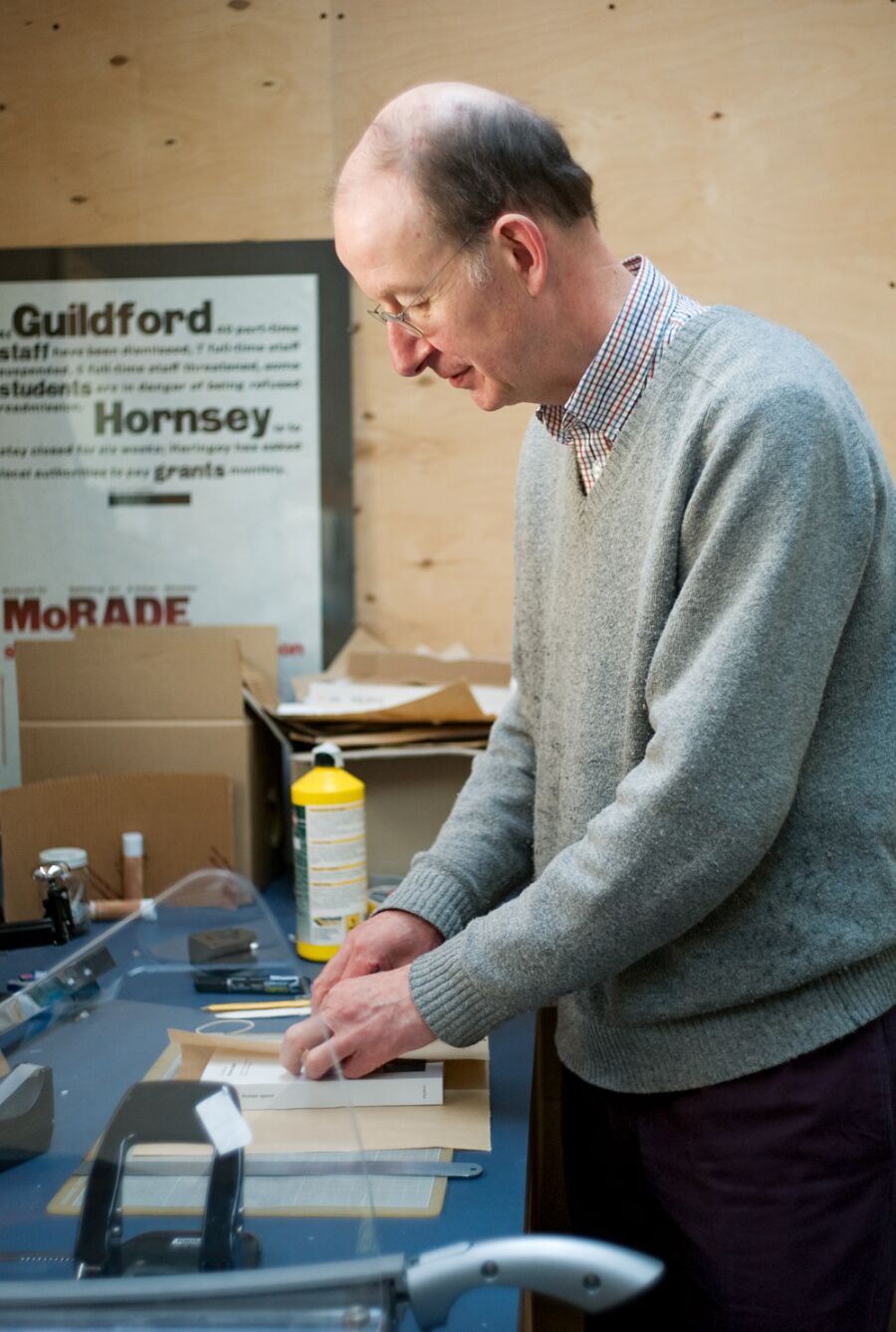 Robin at work in his unit packing up a book for despatch, circa 2011. Photo: Elisabeth Scheder-Bieschin with thanks
With the winding-up of Hyphen Press, the imprint he created and ran for 40 years, Robin Kinross, editor, publisher, writer, and one of the founders of the co-op, has left the building.
Robin played a pivotal role in the formation of the co-op. In 1995 along with Dan Monck and Duncan Kramer – the eventual designers of the present building – and graphic designer Peter Brawne, he initiated a search for a pre-existing building or land to set up the kind of workplace which has few precedents. The intention was to avoid making a 'creative hub' or soulless office but rather to aim for a convivial mixed-use affordable space for designers and makers to produce 'good work' in a spirit of co-operation and mutual aid. In the background were the radical theories and practices of John Ruskin, William Morris, Peter Kropotkin, W R Lethaby, Ivan Illich, Herbert Read, E F Schumacher, Colin Ward (and others), but perhaps most significantly, a friend of Robin's, the anarchist furniture maker Norman Potter.
After several false starts a site was found. Following a two-year period of demolition and construction, by April 2002 Robin and 11 others moved into the purpose-built result, erected on the site of an old filo pastry bakery: Workplace Co-operative 115 (for more see here and here). Potter's influential book, What is a designer: things, places, messages was the first volume put out by Robin's new imprint, Hyphen Press in 1980 (wholly reconfigured from the out-of-print first edition of 1969 by Studio Vista), republished in a third edition by Hyphen in 1989, and finally in a fourth edition using a narrower format in 2002 (with subsequent reprints). Becoming a Hyphen mainstay, the book was also issued by other publishers in several translated editions. What is a designer, along with another by Potter, Models & Constructs: margin notes to a design culture, published by Hyphen in 1990, both become almost 'bibles' for many members working within 115. The spirit of Potter may infuse the building, but it was Robin who was instrumental in transforming this ethos into something real and tangible.
In 2017 Robin published the last Hyphen book from 115 alumnus Christopher Wilson and the same year completed a run of music CDs put out under the name Hyphen Press Music, a project begun in 2008. Since then, amongst other things, Robin has carried through the sale of existing book and CD titles (though a few remain available). In 2020 with this process nearly complete, he felt it was the right moment to leave and intends to devote more time to writing, one of his first loves. Though he has now left, and co-op members miss him greatly, elements of his quiet authoritative presence happily remain.